ES Aktyvus konvektorius FCF 6300-3W-V2
You are here:
Home
/
ES Aktyvus konvektorius FCF 6300-3W-V2
ES FCF FCF 6300-3W-V2 aktyvus konvektorius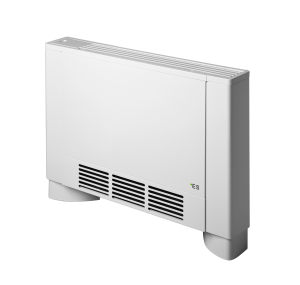 Aktyvus konvektorius ES FCF 6300-3W-V2 Developed using the latest technology.
A fan coil can be easily described as a high efficiency water heater with built-in fan. The hot / cold water from eg an ES multifunction tank or other heat source heat radiator element and the fan then blows out warm / cold air in the house. The fan coil unit also increases the efficiency of a hydronic heating system.
High capacity
For those who have a house with directacting electric radiators and therefore lacks a waterborne distribution system, the fan coil units a very good option when you convert the heating system to water heat together with for example a heat pump. It is generally considerably cheaper and more efficient to install a few pieces of fan coils in the housing instead of installing traditional radiators. The capacity of a fan coil is usually considerably higher than a conventional radiator in relation size. The placement of a fan coil is important for energy savings. They should be placed in a well-chosen spot in the house which allows the heat to circulate efficiently and to maximize savings. The optimal placement is in ground floor main room, usually living room, open to the hallway, dining area and any staircase to upstairs. ES Fan Coils are configured to easily replace an existing radiator. The units can be hung directly on the wall or stand on the floor. The pipes to the fan coil can be concealed and connections can be made behind or at the base of the unit, the flexible connecting hose makes it easy to adjust the fan coil low and high heat levels.
User remote
ES FCF convectors have an intuitive remote control where it is easy to change settings such as set temperature and fan speed. FCF series have a very low noise level.
Aktyvus konvektorius ES FFCF 6300-3W-V2 combining units for maximum effect
FCF series can withstand water temperatures of up to 70 degrees Celsius and a major advantage is that the units deliver extremely good heat even at low water temperatures. In combination with heat pump, this is a major benefit, when lower flow temperatures in the heating system results in higher efficiency of the heat pump.
| Modelis | FCF 6300-3W-V2 |
| --- | --- |
| Tipas | Pastatomas ant grindų |
| (a) Šaldymo galia | 3.1 kW |
| Vandens tėkmės greitis | 573 l/h |
| Slėgio kritimas | 28.00 kPA |
| (b) Šildymo galia | 4.20 kW |
| Vandens tėkmės greitis | 573 l/h |
| Slėgio kritimas | 24.50 kPA |
| (c) Šildymo galia | 6.3 kW |
| Vandens tėkmės greitis | 600 l/h |
| Slėgio kritimas | 25.00 kPA |
| Vandens tūris | 1.48 l |
| Didžiausias darbinis slėgis | 10 bar |
| Vandens jungtis | G1/2 |
| Didžiausias / mažiausias oro srautas | 580 / 300 m3/h |
| Didžiausias / mažiausias garso slėgis | 42/ 33 dB(A) |
| Vartojama elektros galia | 33 W |
| Svoris | 34 kg |
| Gabaritai (AxPxG) | 580x1294x129 mm |
| Garantija | 36 mėn įrangai |
| Kaina su PVM | 6180 Lt |
| Kaina su PVM | 1789 Eu |